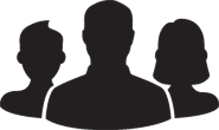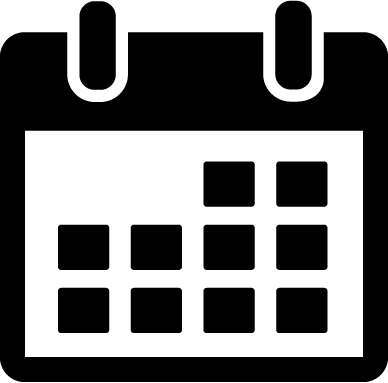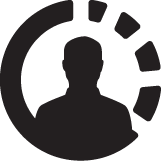 Minimum Age

Minimum Fitness Level



Climbing Above the Great Bear Rainforest
"Via Ferrata", from the Italian meaning Iron Way, have a military origin and were used in the Dolomites for transporting troops through the mountains. A Via Ferrata is a network of metal rungs, ladders, wires that enable most people, from kids to seniors, to safely climb cliffs without needing rock-climbing skills....and is a ton of fun!
Our experienced and certified guides will help you up steep rock faces, across tiny ledges and along ridgelines, all at your pace, making sure you can make the most of the stunning natural landscape in a safe manner.
The tour provides participants with a spectacular self-propelled mountain adventure complete with amazing scenery and an exciting feeling of exposure. Guests wear safety harnesses and are clipped to a cable by means of a specialized lanyard. See below for more safety information.
Stage 1 - "The Slab" is our first Via Ferrata:
Make your way up over 200 rungs with an experienced guide until you reach a viewing deck with stunning panoramic views of the Great Bear Rainforest.
Tour Time: – 3hrs

Total Distance: 1.1 km

Safety cable portion length: 200m
Over 200 rungs

Viewing deck overlooking the valley, with stunning views of rivers, forests, and the Coast Range mountains
Stage 2 - Coming soon...
Safety Information
All tours will include a safety talk, how to use the equipment and how to climb the Via Ferrata. Guests will be supplied with a helmet, harness, lanyard, and gloves.
Our Via Ferrata route was built to French system standards and as an "A " graded route that is professionally built to commercial/industrial standards. All our guides are highly trained mountain guides with first aid training. Guides will also have a radio for quick access to emergency services.
Details on the safety features of this climb: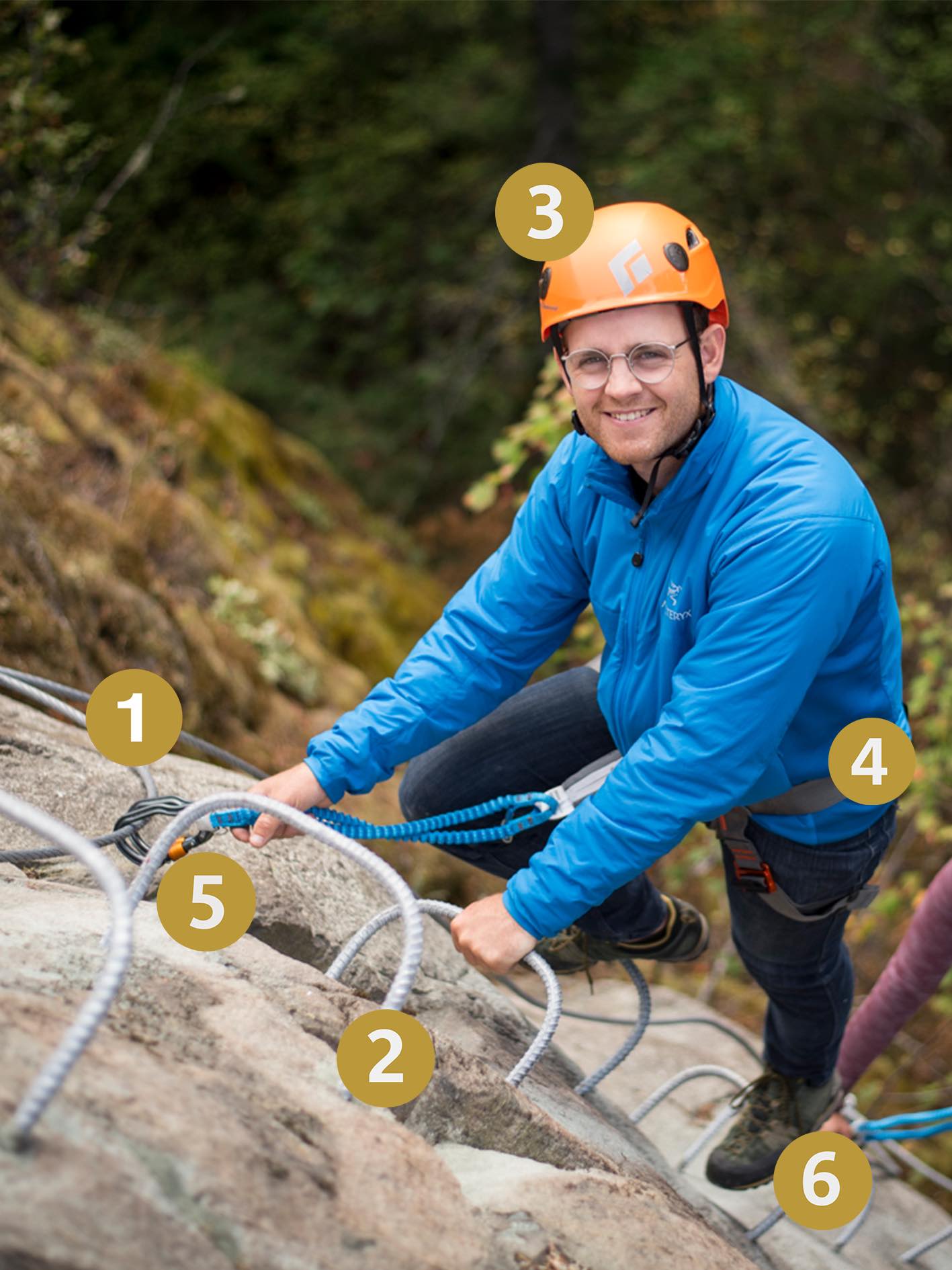 Cable Pathway: this is your pathway up the mountain. The route allows you to enjoy the climb and beautiful views while being safely secured.
Iron Rungs: are what gives Via Ferrata its' name! These iron rungs allow anyone, no matter their climbing experience, to make their way up rock faces
Helmet: At Tweedsmuir Park Lodge, we value your safety, therefore wearing a helmet is mandatory
Harness: connects you to the cable pathway at all times with the carabiner and leash to provide security
Carabiner and Lanyard: The slide through carabiner and lanyard connects you to the harness and cable pathway
Appropriate Footwear: Good hiking boots or trail shoes without an open toe and good grip are important to make your climb up smooth and comfortable
We supply harnesses, helmets, lanyards, and gloves to guests for free.
FAQ
What should I bring?
Hiking or trail shoes without an open toe and good grip are essential to make your way up the Via Ferrata, but other than that most other items are weather dependent. We do recommend bringing:
Weatherproof jacket and warm layer
Water
Snacks
Small backpack with sunglasses, sunscreen, and bug spray as needed
We can supply all of the above
What kind of climbing experience or physical ability is required? And what ages are the age limits?
Although the Via Ferrata is much more accessible than traditional rock climbing, it is still important to have basic physical fitness to make it to the top and enjoy this trip. Children 12 year old and younger are only permitted on a Private Group tour, and not on a Small Group tour. If you have a child 12 or under and you are on a Small Group package, you can pay an add-on rate to do the Via Ferrata as a Private tour.
Is there a weight limit?
Participants over 120kg (265 pounds) are not permitted due to equipment restrictions.
Can I fall?
Via Ferrata harnesses and lanyards are attached to the cable and stopped every 3 metres to reduce the probability of a fall. Therefore, even if you lose your grip, you are not going far at all.
Is this available for non-hotel guests?
Yes! Tours generally begin at 9am or 2pm. To check on availability for this and other activities, contact our Reservation department by email or phone: 604 905 4994 (toll-free 1-877-982-2407).
Can I go on the Via Ferrata on my own?
Due to safety reasons, we do not permit guests to climb the Via Ferrata without the assistance of one of our experienced and certified guides.
When is it open? What about the weather?
The Via Ferrata is available throughout the summer as the weather permits and will run under most conditions. We will only cancel a trip due to icy, windy or thunder storming conditions.
What if I can't make it up?
This is why the guides are there! For whatever reason you are unable to make it to the top, our guides will be there to help. They can attach a rope leash directly to you, or assist your descent to the bottom. All guides carry a radio connected to other staff at Tweedsmuir Park lodge in the unlikely event you require more assistance.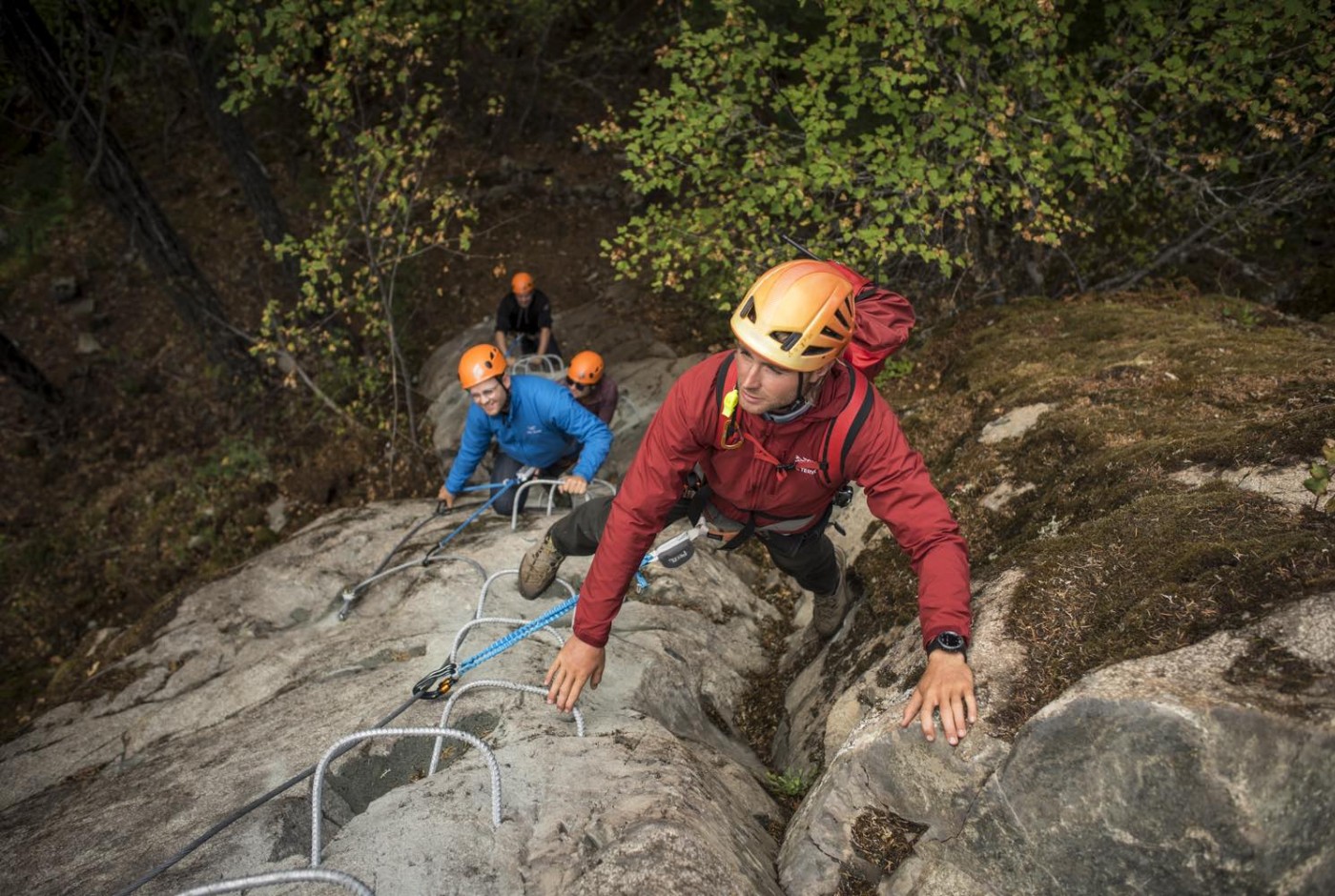 Booking Info
*Pre-Book a Via Ferrata 14 days ahead of time and receive 10% off. Tours for non-lodge guests are a possibility between June-late August only. Contact us for details.
Via Ferrata - Small Group

Rates are per person and include all equipment.



$145 - When booking 14 days ahead of time

$159 - Booking within 14 days

Via Ferrata - Private Tour

Book this tour for your own private group! The rates below are for your entire group (up to 6 people). Includes all equipment.



$546 - When booking 14 days ahead of time

$600.60 - Booking within 14 days
WOULD YOU LIKE TO KNOW MORE?
We strongly recommend pre-booking this tour to ensure there is availability.